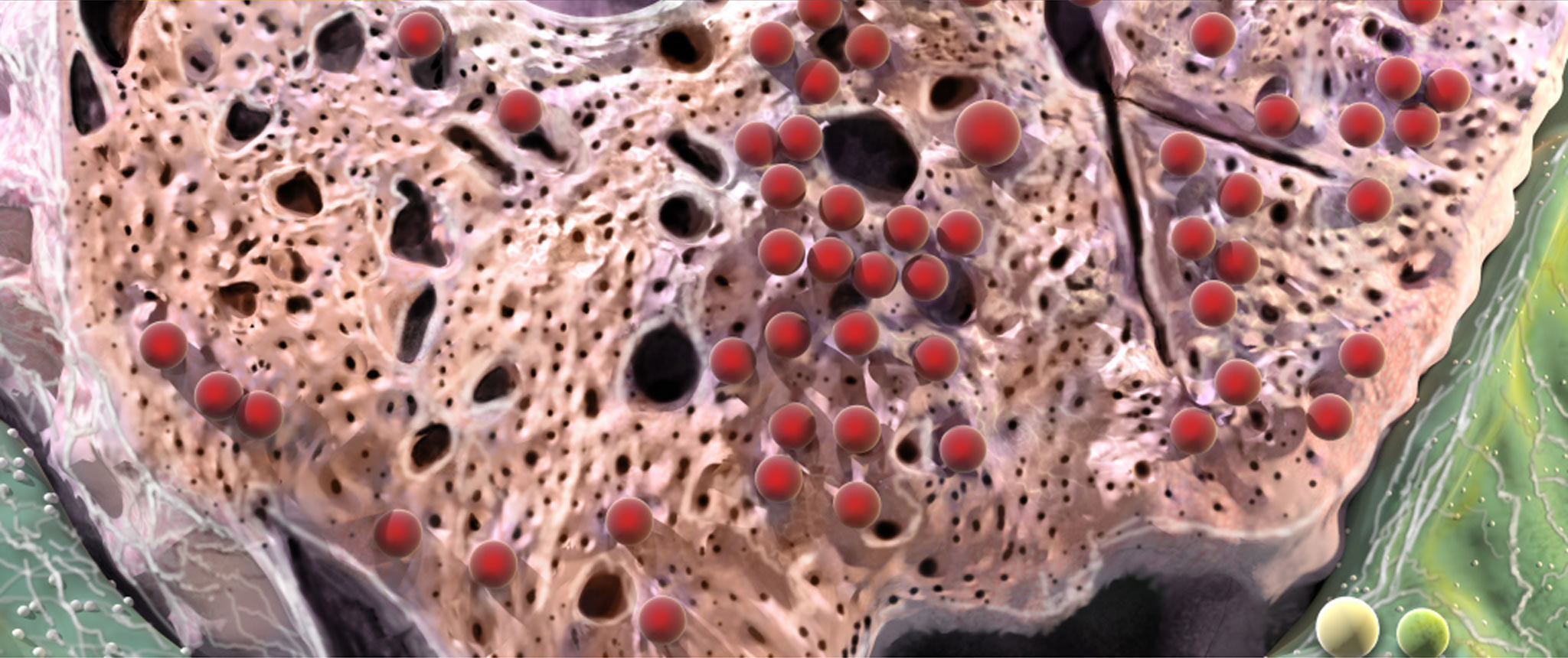 Complications due to PEI
Complications from maldigestion and malabsorption may have a progressive and detrimental effect on a patient's wellbeing and may impact the outcome of the underlying disease, impair quality of life and increase morbidity and mortality.1-3
LOW BONE MINERAL DENSITY

VITAMIN DEFICIENCIES

MALNUTRITION
Bone mineral density
Outcomes from studies have demonstrated:
Low bone mineral density in chronic pancreatitis patients is a consequence of vitamin D deficiency, secondary to PEI4
Low bone mineral density may result in a significantly higher risk of low trauma fractures, especially in the vertebrae, the hip and the wrist compared with control subjects5

The level of risk in patients with chronic pancreatitis is similar to that seen in coeliac disease or after gastrectomy, and significantly higher than in patients with inflammatory bowel disease
Bone mineral density
Fractures
Vitamin Deficiencies (fat-soluble)
As a result of malnutrition, chronic pancreatitis patients can develop nutritional deficiencies, especially of fat-soluble vitamins such as vitamins A, D, E, and K.4
Serious health problems associated with vitamin deficiency include:4
Decreased immune competence (Vitamin A)
Osteopenia/osteoporosis (Vitamin D)
Neurological disorders (Vitamin E)
Blood coagulation disorders and osteopenia/osteoporosis (Vitamin K)
Multiple vitamin deficiencies are common in individuals with untreated PEI.
Malnutrition
PEI increases the risk for malnutrition, consequently increasing complications, morbidity and mortality as well as having a negative impact on quality of life.1
Malnutrition can negatively affect clinical outcomes.1
Data in hospitalised patients showed an association between increased nutritional risk and poor clinical outcomes. This prospective cohort study with nutritional risk screening (NRS-2002) involved a total of 5,051 patients, who were screened in 26 European hospitals and data were collected on complications, mortality, and length of hospital stay.1
Patients who were at nutritional risk had more complications, longer stays in hospital, and higher mortality than patients who were at no nutritional risk.
FACT
PEI has been associated with high morbidity and mortality, secondary to malnutrition-related complications, and an increased risk of cardiovascular events.
Singh VK, et al. 20176
References
Ockenga J. Importance of nutritional management in diseases with exocrine pancreatic insufficiency. HPB (Oxford). 2009;11(Suppl 3):11-15.
Sikkens EC, Cahen DL, van Eijck C, Kuipers EJ, Bruno MJ. Patients with exocrine insufficiency due to chronic pancreatitis are undertreated: a Dutch national survey. Pancreatology. 2012;12(1):71-73.
Fitzsimmons D, Kahl S, Butturini G, van Wyk M, Bornman P, Bassi C, Malfertheiner P, George SL, Johnson CD. Symptoms and quality of life in chronic pancreatitis assessed by structured interview and the EORTC QLQ-C30 and QLQ-PAN26. Am J Gastroenterol. 2005;100(4):918-926.
Sikkens EC, Cahen DL, Koch AD, Braat H, Poley JW, Kuipers EJ, Bruno MJ. The prevalence of fat-soluble vitamin deficiencies and a decreased bone mass in patients with chronic pancreatitis. Pancreatology. 2013;13(3):238-42.
Tignor AS, Wu BU, Whitlock TL, Lopez R, Repas K, Banks PA, Conwell D. High prevalence of low-trauma fracture in chronic pancreatitis. Am J Gastroenterol. 2010;105(12):2680-2686.
Singh VK, Haupt ME, Geller DE, Hall JA, Quintana Diez PM. Less common etiologies of exocrine pancreatic insufficiency. World J Gastroenterol. 2017;23(39):7059-7076.